For a full year now, I've been showing a documentary about three centuries of local farming in central New Jersey's Millstone Valley to enthusiastic audiences, including many who are farmers themselves.
One section of the film almost always gets a "gasp." It's the part that describes the labors of women on farms since the late 1600s, when mostly Dutch settlers were busy earning New Jersey its "Garden State" nickname, supplying food to the booming metropolis of New York City. As the film describes it, women have been integrally involved in farming from the start, but it took nearly 250 years for the United States government to give them their due.
This spring, the US Department of Agriculture released results from the 2017 Farm Census, which is taken every five years. For the first time, the survey allowed farming families to list more than one "principal" farmer. Couples who own farms no longer must designate one person—usually a husband—as the principal farmer. As a result, women as a percent of farmers has risen by 26% nationwide and by 36% in New Jersey. Some of this increase may be real—more women involved in farming than in 2012. But most of it is surely due to the methodology change, which finally gives women credit for their work in agriculture.
With the increase, 40.5% of all New Jersey Farmers are women, compared to 36% nationwide. And those women are not simply in the business of farming. Here in New Jersey, the small family farm is alive and well, at an average of 74 acres versus 441 nationwide. That means many of New Jersey's women farmers are working the soil, feeding livestock, and bringing in the harvest. Not unlike in past centuries.
The moment that provokes gasps in my film, Farming in the Millstone Valley: Past & Present, arrives after the narrator briefly summarizes the hard work of men and moves on to describe the work of women in detail:
"Mothers and daughters were in charge of cooking, cleaning and child-rearing, but their duties hardly ended there…They were the bakers…milkmaids…butter-churners…cheese-makers…and brewers of beer…They also cured the ham, brined the beef, dried the fruit, tended the family garden and looked after the chickens, ducks and geese.…Their work continued as they prepared pickles, jams, soaps and candles… spun their own yarn, made and mended clothing…and when the farm was shorthanded, they helped in the fields."
It's exhausting just to read!
Women were not just workers on New Jersey farms, but also innovators. The very first woman to ever receive a citation from the NJ Department of Agriculture was Elizabeth Coleman White who helped develop the first cultivated blueberry in 1916.
Today in Central Jersey, women are playing quite a large role in farming today, beyond what we see in the state or national averages. Across the four counties in our coverage area, 1,767 farmers were women as of 2017. Locals think that number is even higher in 2019.
38% of farmers are women in Mercer County, home to Princeton University, up 41%
42% of farmers are women in Somerset County, up a whopping 54% in five years
42% of farmers are women in Hunterdon County, up 30% since 2012
Hunterdon County, which stretches from the Sourland Mountain west to the Delaware River is a true center of women in farming. With 1,137 women farmers, Hunterdon has more women farmers than any other county in New Jersey or New York!
Terhune Orchards in Mercer County is a good example of the role of women in New Jersey farming. The farm was started more than four decades ago by Pam and Gary Mount, he being a 10th generation farmer in New Jersey. The old farm census would have counted Gary as "principal farmer," but the reality is he's 25% of the leadership team that now includes adult daughters Tannwen and Reuwai Mount, 11th generation farmers in the Garden State.
The Mounts were awarded last year as Vegetable Farmers of the Year, and they welcome hundreds of thousands of visitors to Terhune Orchards and Winery every year for festivals, music, and Pick-Your-Own strawberries, blueberries, apples, peaches, pumpkin, and more. The Mount women are visible and highly engaged in ensuring a positive experience for their visitors.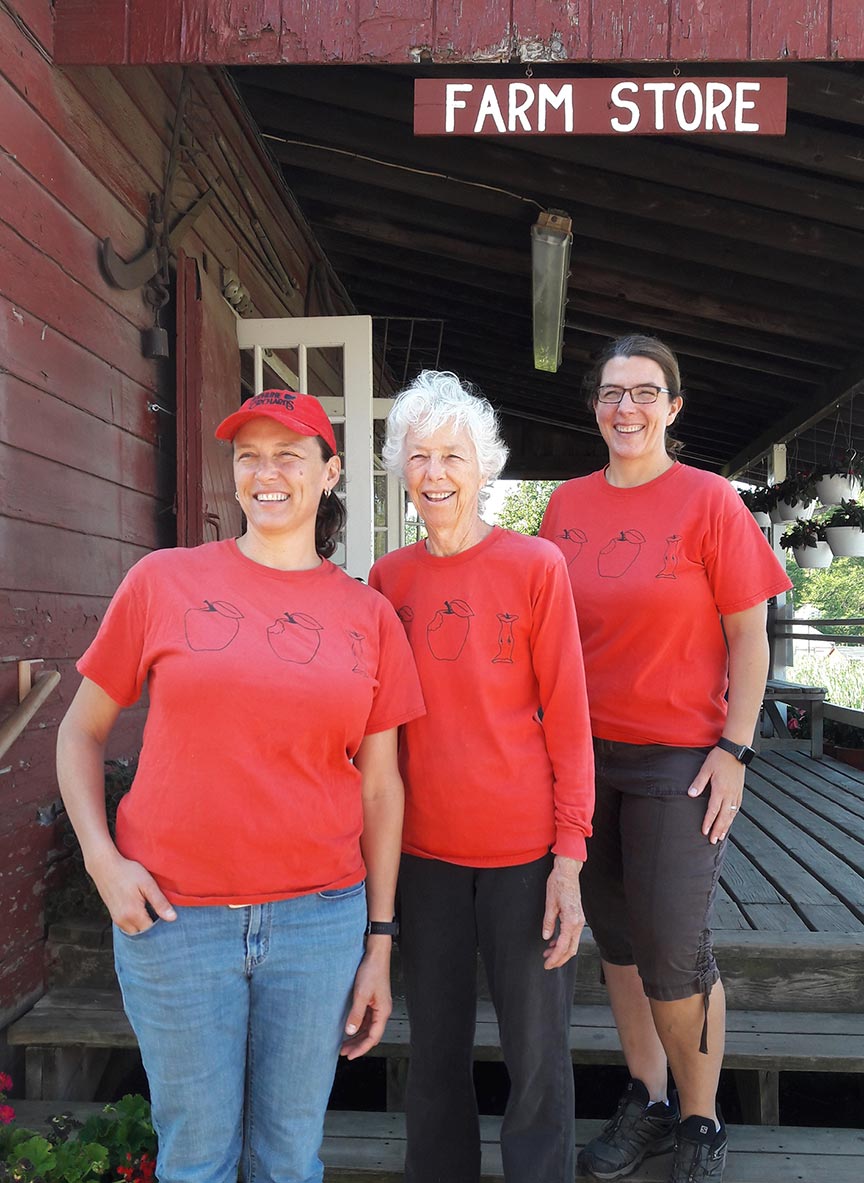 From left: Reuwai, Pam, and Tannwen Mount of Terhune Orchards
Another Mercer County example is Jess Niederer who runs a fourth generation farm in Hopewell called Chickadee Creek. Jess was named the 2016 Young Farmer of the Year in 2016 and currently leads the Mercer County Board of Agriculture. Chickadee Creek sells its products via farmer's markets around the Garden State and via a CSA program.
One reason for the rising role of women in farming is a program called Annie's Project, a national business education program for women in agriculture and run locally out of Rutgers University.
Yet the story of women in New Jersey agriculture is one that goes back to the earliest of days of our nation and state, when "women's work" was crucial in the making of the Garden State. When you visit Central New Jersey farms, keep an eye out for the women in charge.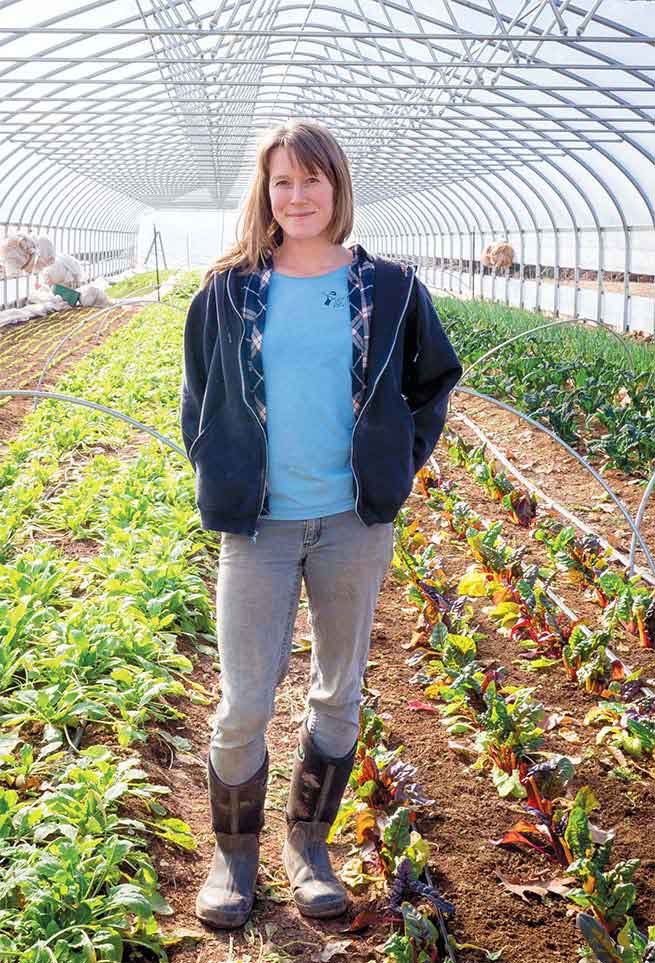 Hopewell's Jess Niederer was named New Jersey's 2016 Outstanding Young Farmer by the New Jersey State Board of Agriculture. She is an industry leader in Mercer County.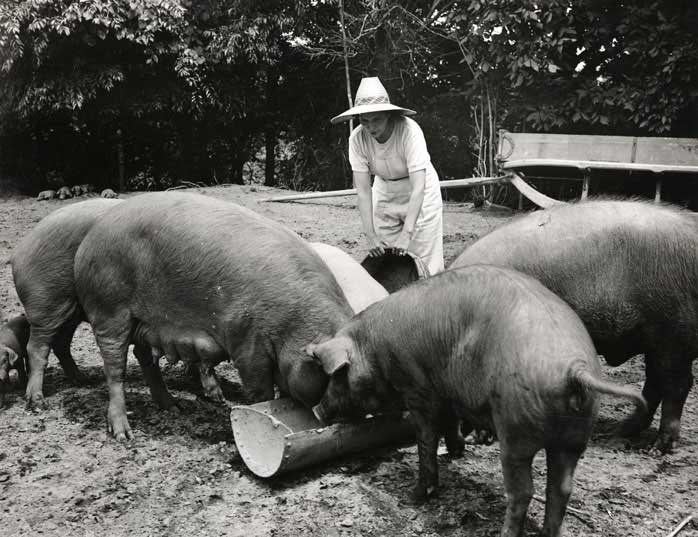 An unknown New Jersey woman feeding hogs in 1945, NJ State Archives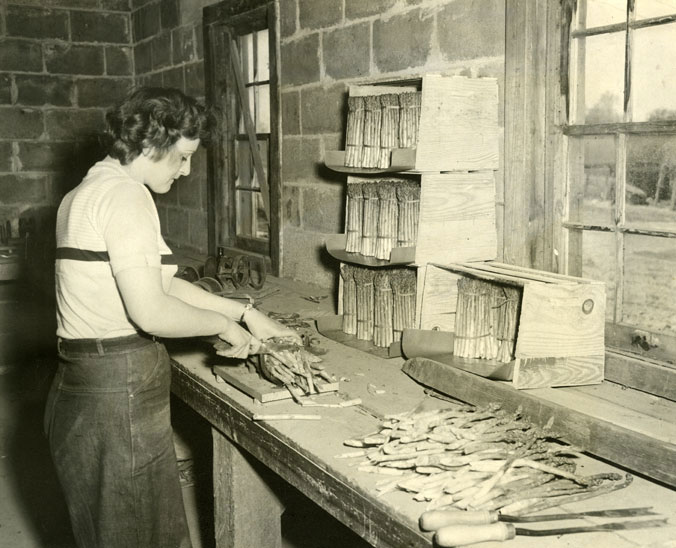 A woman cuts hard ends off asparagus, circa 1950, NJ State Archives